Are you finding and keeping the people God is calling into your shared mission? 
Strong nonprofit leaders engage, value, and affirm volunteers in creative and effective ways.  Our proven strategies and practical tools will help you create and increase a committed volunteer base.
Volunteers are completely unique in nonprofit management and leadership.  You are responsible for their attitudes toward your ministry and for helping them discover how their God-given talents and abilities increase your Mission and impact.
Volunteers need direction, affirmation and validation in how they are honoring God's will for their life by serving with you.
They are willing and eager partners, dedicating time, energy and enthusiasm to help fulfill your Mission.  They want you and your ministry to succeed! Are You Engaging Volunteers or Frustrating Them?
Practical Strategies for More People and More Time on Mission
Biblical Volunteer Engagement
Volunteers can be your greatest advocates.
Courses or Consulting?  Not sure what you need?
Online Courses for Volunteer Engagement:

SOLICITATION:  Inviting Volunteers to Join You
One way to start looking at your volunteers and how they are included in your ministry is to enroll in the Certified Development Professional (CDP) Solicitation Course.  While we traditionally think of solicitation being only for donors, solicitation simply means "to invite."  Learn how to use the same proven strategies for volunteers as we do for donor stewardship.  Many, many of the ways to invite and appreciate donors also applies to volunteers.
SOLICITATION counts toward your Certified Development Professional credential.
Learn the seven steps of the solicitation process.
Apply the solicitation process to a strategy within your ministry.
Learn how to "bridge," to keep the relationship positive and growing.
Apply "bridging" to at least two strategies within your ministry.
Learn five ways to continue conversations and relationships with individuals even if they've declined your request for a donation.
Identify basic database needs to support the Solicitation process.
Assess your ministry's current database and IT "health".
Learn how to structure your database so it helps you grow your relationships.
Learn how to Prioritize database and/or IT changes and improvements.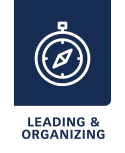 Online Courses for Volunteer Engagement:

LEADING & ORGANIZING:
Using The Attitude Continuum and our 8-Step Planning Process will revolutionize your volunteer engagement and give you more time on Mission.  
LEADING & ORGANIZING counts toward your Certified Development Professional credential.
Learn the Attitude Continuum © and the vital role it plays in your ministry relationships.
Learn the subjective factors that cause people to either leave your ministry or become deeply rooted in your vision and mission.
Identify where your partners and stakeholders are on the Attitude Continuum.
Learn and practice strategies that keep the volunteers you have and encourages new ones to join your mission.
Learn how to organize your volunteer structure, so people are partnering in meaningfully ways and your mission is advanced.
Learn and practice the eight-step model for successfully planning anything.
Develop strategies for productive and successful team meetings.
Build a Development Calendar maximizing the best times to invite people to support your ministry.
Consulting
Want help inviting and keeping volunteers?  We are happy to walk alongside you through strategic coaching or more hands-on consulting from our team of experts.  Let's talk about your specific needs.