Comprehensive Development Audit
Your ministry has strengths and weaknesses, based on organizational culture, leadership and resources. The CDA will help pinpoint your organization's strengths – and where time and energy are needed so you have more money, more people, and more time to fulfill your mission.
Our CDA digs deep into eight key areas essential to your ministry's health and vitality.  Based on the Audit information, our team of experts will compile a detailed report, so you have the information you need to make decisions that advance your ministry.
The CDA gives your leadership team the kind of objective information necessary for prioritizing your next steps now and a tool for evaluating future needs.
Practical Tool to Use Again and Again
How's your ministry's health?
Courses or Consulting? Not sure what you need?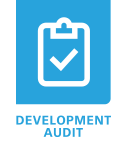 Online Course:
Comprehensive Development Audit
Just as with a doctor's checkup, we often need to evaluate our Development activities and plans. This Course gives you the framework to conduct your own checkup, determining the pulse, respiration and general health of your Development plans and activities.
Once you complete and submit the Audit to us, we'll send you a thorough report, including observations, clarifying questions, and recommendations.  A conference call is also conducted, so we can help you set priorities and action steps as a result of your Audit.
Learn the elements of a self-audit to objectively identify organizational strengths and weaknesses.
Identify major categories of donors.
Identify real annual contributions.
Assess the strength of your general public relations materials.
Assess your volunteer recruitment and retention.
Identify and prioritize next steps for improving and strengthening your ministry's Developmental health.
Consulting
Want help taking the next steps after the Audit?  We are happy to walk alongside you through strategic coaching or more hands-on consulting from our team of experts.  Let's talk about your specific needs.