Dollars raised for God's Kingdom work
Take The Guess Work Out of Growing Your Nonprofit
Biblical Donor Stewardship
Proven Strategies & Tools
Tired of trying to figure it out alone?
We can help.
Let's be honest.  Nonprofit management and leadership can be messy.  Fundraising can be exhausting.  And volunteer recruitment and retention can be time consuming.
Just because your nonprofit is a ministry doesn't make it any easier.  Often it's harder because you feel the weight of your Call and know what's at stake.
Sadly, many ministries approach people through transaction.  But God's way is through relationship.  If you've ever met Jerry Twombly, you've heard him say, "Development is everything that we do to build rational relationships."  So everything we do helps you put God's ways into action.
With 170+ years combined experience in Relational Nonprofit Development, as well as Nonprofit Management & Leadership, our team helps you position your ministry for results now and for long-term growth.



If you need help to grow your organisation and want to learn that it's not about you but about the great big God that we serve, then I totally recommend the programmes and teaching that Jerry, Greg and team have. This is truly practical down-to-earth teaching, well grounded, designed to give you confidence to fully engage with your organisation's stakeholders and enjoy the journey with them. I have worked in Development more than 15 years and benefitted from this training so much that I sent my team the following year.
Are you ready to accelerate your impact?
We have 3 primary services to help you.
Consulting
You have the passion and the vision, but sometimes you need hands-on help.  We put our decades of experience to work for you, where you need it most.  You may be a startup ministry, mapping your path or well established, wanting to energize a particular project.  From Capital Campaigns or Board Engagement to Annual Funds and Volunteers, together we'll build your ministry's capacity for greater impact now and in the future.  
Coaching
It's one thing to get advice, tools or good ideas.  We accomplish more when we take the journey together!  We walk with you as you reflect, plan, and act.  We include coaching and mentoring in all our consulting work, and we can also work independently with you to help you reach your destination – Greater Impact, Stronger Outcomes, and Deeper Relationships.
Jerry Twombly brought strong training and insight to our development processes at the pregnancy center in Missouri. With fast growth and great needs represented among our client population, we were able to do a full development assessment and then create a plan to keep pace with the financial needs of our center. The additional Certified Development Professional training we attended gave us strong capacity-building skills for the long-term health of our organization. The NonProfit Authority brings great resources to the table and delivers.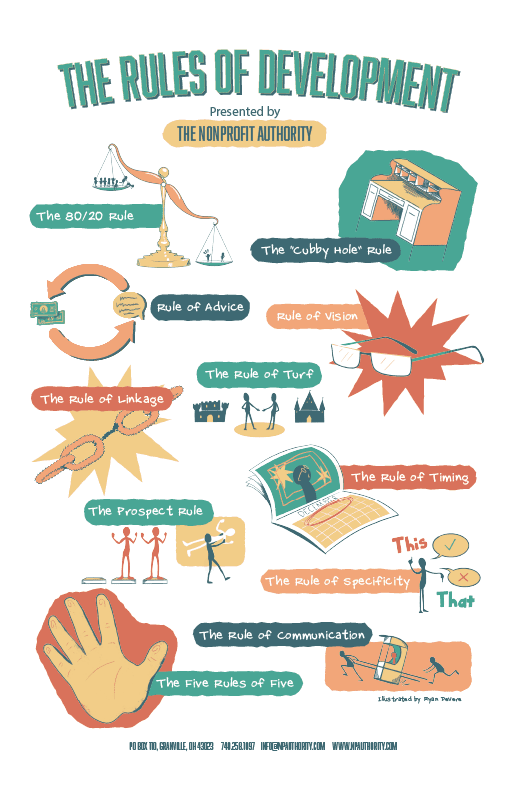 Free Poster
The Rules of Development you never want to break, so you have more money, more people, and more time for mission success.
Available as digital download or we will send you one in the US Mail (US street addresses only).  Printed copies not available outside the US.