Development and Strategic Planning
Confusion, lack, frustration, burn-out, mission failure…
It's not a people problem, it's a plan problem.  It simply isn't enough to have a Vision.  And a lofty-sounding mission statement tucked away in Board notes or written on a plaque will NOT bring you mission success.  What you see happening as a result of your ministry, how you intend to get there, and how you plan to resource it all work together to make your God-given vision a reality.
Vision, Mission, Strategic Planning and Development Planning—all create the structure you need for mission success! Is your Mission Statement Clear, Concise and Compelling?
Can Your Volunteers and Donors Confidently Communicate Your Ministry's Vision?
Do your Board members, staff, volunteers and donors know how their gifting and talents help the ministry flourish?
Do you have the ING?
Don't let your hopes and dreams sit on a bookshelf or become obsolete because your plans can't respond to changing times. Let's build a planning process so your ministry is responsive and relevent.
Creating a planning process, building plans, revising strategic direction…we're here to help your ING.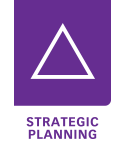 Online Course:
Strategic Planning
Another way to get started…
This Certified Development Professional (CDP) course equips you in dynamic and practical planning so your Vision, Mission, Strategic Planning and Development Planning all work together to accelerate your Mission.
Planning is a team activity, so this course is priced and designed for 3 to 4 members of your nonprofit management and leadership team to participate together.
STRATEGIC PLANNING counts toward your Certified Development Professional credential.
Learn the difference between "outputs" and "outcomes".
Learn and practice the process for identifying outcomes that genuinely have meaningful impact.
Review your ministry's Vision & Mission Statements and suggest revisions to strengthen them.
SAVE 50% on Tuition — We encourage your development director, executive director, senior leadership, and board members to take Strategic Planning together. Each additional person from your ministry enrolling with you in Strategic Planning, may enroll for 50% off regular course tuition.
 Strategic Planning Retreats
InPerson or Virtual
Maximize talents, create ownership, energize impact.
Tailored to your specific ministry needs, we work with you to build a strategic planning retreat for your board, key staff members, and other essential partners.  You'll participate in a planning process that is compelling, effective, flexible, and ongoing.
Friday evening and Saturday often works well for busy Board members and VIPs (Very Important Partners).
Let's build a process that's right for your ministry.